Nita Schmidt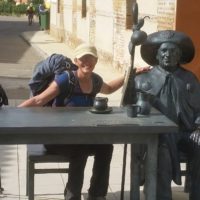 Company
Three Dimensional Healing
Professional Title
Counsellor
Qualifications
TRTP facilitator, Counsellor (MACA), Inner Child Work facilitator, Reiki Master.
Intuitive Listener. Thought Field Therapy (tapping) practitioner.
30 mins free chat prior to apt.
Specialities
Releasing stress, anxiety, depression, anger, resentment, quit smoking
Email Address
threedimensionalhealing@gmail.com
Level
Practitioner
Address
Office: Costa Rica Place
Perth, WA 6169
AU

Phone Number
(045) 058-8048
(045) 058-8048
Biographical Info
Questions you need to ask yourself before you read anymore.
You are reading this because you are searching for answers, right?
Sick of being a victim?
ARE YOU MOTIVATED TO HEAL?
DO YOU WANT TO KEEP YOUR TRAUMA OR KICK IT INTO TOUCH?
ARE YOU TEACHABLE?
DO YOU REALLY WANT TO CHANGE?
WHAT HAVE YOU GOT TO LOSE?
CAN YOU COMMIT 100% TO YOU?
Is this you?
Tired of being tired? Hate waking up? Feel like shit in the morning? Feel like shit all day!! Hate your job? Live off caffeine? Addicted? Running from life?
Are narcissistic people destroying your life?  Narcissistic individuals are in every faucet of life. Their main objective is to divide and conquer with no regard for you.
I take your shit and turn it into gold. You get your life back, work is better, relationships improve and you enjoy waking up.
I am a passionate caring experienced therapist
You release the tentacles from the past and walk into your fun filled vibrant prosperous life that you are entitled to have.
START YOUR TOMORROW …. TODAY and move your SHIT!
I provide mind, body and soul healing without having to retell your experiences nor committing to years of therapy.
I provide a nurturing, safe environment for you to explore your issues. I have at my disposable Inner Child Work, Thought Field Therapy (tapping), Master Reiki, Intuitive listening skills and of course TRTP.
Trauma stays in your body until you move from victim to VICTOR and have victory
Testimonial: "Why didn't I do this years ago … at last I am FREE. Finally I have found someone to help me put my past in the past never to emerge again." J.K. Perth
From PTSD, chronic anxiety, dissociation of self, night terrors, PTSD nightmares, mental anguish, complex regional pain syndrome to sleeping through the night, being present and active, planning to go back to study and living away from home as any 27 year old should be doing, enjoying food again, having energy to be involved in good positive relationships after only 5 apts with Nita is AMAZING, as I had spent 4 years talking with a psychologist and got nowhere. 
Nita and TRTP have saved my life. No BS. Ring Nita and start today. Honestly its worth it. Kendra, Perth
Days and hours of business: Wednesday through to Sunday. 10.00 a.m. to 4.00p.m.

---