Aldo Donadel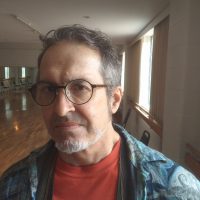 Company
Hearing Voices Network
Professional Title
TRTP Practitioner
Qualifications
My lived experience of anxiety/depression & trauma Recovery
has contributed much to my effectiveness as a Peer Support Worker in Community Mental Health environments , Group Facilitation & Counselling over the past 15 years.



Specialities
Depression, Anxiety, Trauma , Schizophrenia/Bi-polar etc
Email Address
azazaldo@gmail.com
Level
Practitioner
Address
Unit 3, No 344, Milton Rd, Auchenflower
Brisbane, QLD 4066
AU

Phone Number
(040) 411-6112
(040) 411-6112
Biographical Info
From my teenage years , growing up in far N.Q., I exhibited an intuitive rapport firstly with school peers who later came to be labelled with a "Schizophrenia" diagnosis.
This misleading label , & others like it, is most commonly applied to a least understood subset of our society – highly sensitive introverts. Being a member of this group gave me ample motivation throughout my life to study & understand the wealth of experiences hidden behind these psychiatric labels.
I came to see that my own life trajectory typified that of a whole demographic of lost souls, conveniently brushed aside, out-of-sight out-of-mind by the majority. While I, with some luck & cunning avoided becoming a fully medicated casualty of our psychiatric system, being put on a Disability Pension early in life at least offered me ample opportunity to pursue research into alternate views in mental health.
I was able to not only educate myself , but to eventually find roles as a mental health advocate within the Oz sector of the global Hearing Voices Network.
The essential message behind this movement , and its sister allies in the field of MH, is – it's not about mental delusions. It's all about Trauma.
Not "What's wrong with you?" but "What's happened to you ? "
After many years of seeking out approaches which rise above the routine defeatism of many trauma treatments, discovering TRTP has been a revelation ,
and an inspiration. I have been most cheered In my practice so far , treating other Peer Support Workers, as I envision the way this approach can inform & transform
the Peer Support in the grass roots of the mental health community.
In the meantime , I am delighted to have found myself positioned at the cutting edge of the next leap forward , reclaiming lives , free at last from the shadows of trauma.
---