Sue Scott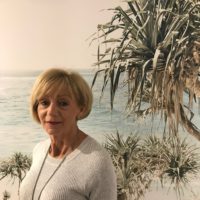 Company
Susan Scott
Professional Title
Kinesiologist
Qualifications
Graduate Diploma in Teaching
International Diploma of Professional Kinesiology
TRTP practitioner
Resonate Essence Practitioner
Certified Practitioner of Neuro-Linguistic Programming
Certified Emotional Freedom Techniques
Instructor in Epigenetic Healing Cycles
Instructor in Mindfulness Training
Graduate Diploma in Teaching
Diploma in Natural Hygiene
Leap – Simply the Brain 1&2
7 Chi Keys – Chakra Balancing
Diploma in Forensic Healing
Specialities
Identifying and releasing emotional blocks, trauma, & limiting beliefs.
Email Address
susan8scott@gmail.com
Level
Practitioner
Address
301/28 Church Street
Wollongong, NSW 2500
United States (US)

Phone Number
(041) 769-1368
(041) 769-1368
Biographical Info
ABOUT SUSAN.
Susan lives in Wollongong on the South Coast and has worked as a primary school teacher for over 30 years. She has always been interested in Natural Therapies over this time and studied Australian Bush Flower Essences, Reiki, Nutrition and Massage, and graduated with a diploma in Natural Health and Hygiene, however always felt there was something else out there for her.
Seven years ago her son suffered a traumatic brain injury and discovered the benefits of Kinesiology. It has helped the whole family deal with the emotional trauma and brought balance back to their lives. Experiencing the great benefits of kinesiology, has inspired Susan to study this science of energy balancing and share it with others.
Since embarking on the study of kinesiology Susan has also studied NLP, Time Line Therapy, Hypnosis, Emotional Freedom Technique, Resonate Essences, Forensic Healing. She is now able to incorporate her previous and current studies, teaching children, rich life experiences, Resonate Essences and Kinesiology to assist clients to achieve their goals and assisting them to reach their potential in any area of their life.
Kinesiology looks beyond symptoms and does not treat named diseases nor does it diagnose them. Kinesiology is concerned with imbalances in the body's energy. As a result of unresolved emotional trauma, injury, nutritional or other stresses, the energy flow is interrupted and the whole body is affected. The exact nature of energy flow can be identified with muscle testing and then corrected with a variety of techniques.
Kinesiology is not limited to physical or emotional issues. Energy balancing brings a person closer to achieving any goals in sport, relationships, learning or coping with life in general.Susan's latest studies have included TRTP (The Richard Trauma Process). TRTP initially deals with the underlying unconscious core beliefs which keep a person stuck in patterns of thought, emotion and behaviour. In dealing with this at the beginning of the process, self-sabotage is avoided during the therapy. The foundation is Connection and Intention. It is about an understanding of how healing occurs and creating an environment in which this can occur safely, and where the client can really thrive. TRTP makes use of hypnosis. Hypnosis is used in order to deal with distress where it is stored – in the unconscious and in the body (as pain or dis-ease) The client is shifted from flight/fright/freeze and moved to an empowered, self regulated state.
Once the issues that are holding them back are identified clients report many positive outcomes affecting all areas of their life. After the therapy session, clients report feeling lighter and more impowered with a new view of the world. They feel huge burdens lifted, a new sense of wholeness and a deeper emotional/spiritual connection.
Testimonials:
I was referred to Sue Scott by my wife who had already participated in a kinesiology session with Sue. Although a little nervous about what the appointment would entail I decided to give it a try and attended with an open mind. Soon after meeting Sue my nervousness was melted away by her warm welcome and kind understanding. Sue explained the process of Kinesiology and TRTP so there were no uncomfortable surprises. Her calming nature aided in creating a safe and relaxed environment. We sifted through my life's earlier trauma and challenges to better understand how I became the man I am today. Previous trauma was healed and after each appointment I left feeling elated and re-energised to overcome any obstacles the World set for me. The tools I learnt from Sue have helped improve my marriage, close relationships and general outlook on life. Learning to become the best version of myself with personalised guidance from Sue has been one of the best things I have ever done. Sue's ability to support her clients in overcoming any self-limiting beliefs and to improve their overall outlook on life is truly amazing.
Chris J
I highly recommend seeing Sue from Inspire Kinesiology. I attended a few sessions as well as her TRTP sessions and it has really changed my outlook and the way I handle situations. I feel a lot calmer within myself and with who I am. Sue is a wonderful listener and is able to help you think outside the box in the what and why of any situation. I had very little understanding of Kinesiology but it certainly made a difference in my life. Do yourself a favour and call today. You wont regret it!!!                      Michael
Sue,
I loved the TRTP process from start to finish and have to say a year on I am still noticing the changes. Sue creates a safe caring environment and I would highly recommend it.               Kylie xxx
Since December 2019, I have received services from Sue on a regular basis for kinesiology, TRTP and Resonate Essences. I have found to be professional, compassionate, calm and friendly. Her ability to remain present and focussed on what I need to achieve in the session, has been key to my ongoing transformation. She explains theories and concepts in an articulate manner, whilst empowering me to heal and transform. Based on my own healing journey I am happy to recommend Sue to perspective clients and give permission for this testimonial to be mad publicly available.                      Meagan
---