Nita Schmidt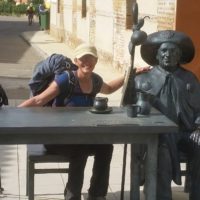 Company
Three Dimensional Healing
Professional Title
TRTP facilitator
Qualifications
TRTP facilitator, Inner Child Work facilitator, Reiki Master.
Intuitive Listener. Thought Field Therapy (tapping) practitioner.
30 mins free chat prior to apt.
Specialities
Releasing stress, anxiety, depression, anger, resentment, quit smoking
Email Address
threedimensionalhealing@gmail.com
Level
Practitioner
Address
Office: Costa Rica Place
Perth, WA 6169
AU

Phone Number
(045) 058-8048
(045) 058-8048
Biographical Info
Your unconscious rules you! And you have no idea what your unconscious is programmed with. Well, I am here to tell you, your mind is filled with rubbish, outdated, old programs that your parents handed down to you not to mention all the generations gone before.
Do you constantly have negative thoughts in your head?
Are you constantly telling yourself you are useless ... can't stick to a diet ... can't stop drinking ... can't stop smoking ... can't stop feeling like shit?
Do you see familiar patterns happening in your life that your parents have? Divorced/Separated/Angry/Stressed/Drinking/Smoking/Depression/Anxiety etc.
Do you want to stay in that circle of destruction? Do you want to move away from victimhood into victor?
Only you can decide what you do about your situation. But I can help you cross over from victim to victor.
Are you motivated to change? Are you brave enough to want the change? Are you prepared to do the work for change?
I work with people suffering from: stress, anxiety, depression, goal setting, losing weight, stop smoking, PTSD and much more.
Every time you think about a trauma that you have experienced in your life, you are producing the same chemicals within your body as if you were experiencing the trauma for the first time. Stop the video loops in your mind. Take control of your life ... not life taking control of you.
​
If you don't take action and don't ask for help, what will you be like in 12 months time
I work face to face or on zoom. Location is not a problem.
I am a passionate caring experienced therapist of 30 years.
I provide a safe nurturing caring environment for you to explore your issues.
I have at my disposable TRTP (trauma release process), Inner Child Work, Thought Field Therapy (tapping), Master Reiki, Intuitive listening.
Days and hours of business: Wednesday, Thursday, Friday. 10.00 a.m. to 5.00p.m. Sunday by special apt only.

---