Dr Rosie McLaren (PhD)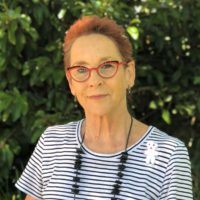 Company
Consulting and Therapeutic Services
Professional Title
Psychotherapist & Counsellor
Qualifications
B.A. (Hons), Doctor of Philosophy, Advanced Diploma of Psychotherapy, Graduate Diploma of Psychoanalytic Psychotherapy
Specialities
please refer to Areas of Interest
Email Address
rmclaren@iinet.net.au
Level
Practitioner
Address
Kingsway
NEDLANDS, WA 6009
Australia

Phone Number
+ (643) 887-4766
(O43) 887-4766
Biographical Info
Biographical Information
My earlier professional careers were that of a potter, an artist, a writer and an educator.  For the past twenty three years I have taught and practiced in the field of mental health.  I loved my earlier work and I am passionate about the work I do now.  I approach my therapeutic practice with curiosity, thoughtfulness, warmth, compassion and love. I assist clients to listen to their bodies and souls as well as to their minds.  In guiding people to come to know themselves intimately and honestly, and to rise above adversity and anguish I draw upon a range of counselling and psychotherapy methods.
After completing my dissertation in philosophy (PhD) in the late 1990s I continued my studies, achieving a Graduate Diploma in Psychoanalytic Psychotherapy.  The field of psychoanalysis that resonated for me was the dynamics of parent-child relationships.  Early childhood development, particularly the interaction between infants and care-givers, has profound and lasting influences on the subsequent mental and physical health of adolescents and adults.  Significant loving relationships and the invisible bonds created by our very early years are crucial to our capacity to grow and mature into wise, creative, healthy young men and women.
All of my experiences and training inform the way I work with clients.  For many years I have explored spiritual and contemplative practices, and these ways of knowing assist people to understand how to open to love and to being loved, as well as to care for themselves and others.  In doing so, they can break free from past traumas and upsets.  Working together in a safe and confidential environment I help clients transform their lives from places of emptiness and distress into ways of being that offer an empowered  vision for who they are, and who they might become.
In 2017 I was accredited as a practitioner of The Richards Trauma Process (TRTP).  As part of the training I experienced TRTP as a client. That experience was life changing and deeply moving. The changes I noticed within myself were profound. A particular experience that had troubled me for many years disappeared overnight.  Other positive changes became evident soon after (and continue to do so). My earlier years of therapy during my analytic training (200 hrs) had never touched on the feelings and emotions of the troubling childhood experience.  During this time, my unconscious mind had kept the memories below my awareness. Through hypnosis, and the sense of safety that was created by the therapist, these old memories simply fell away. The subsequent relief was exhilarating.
The best indicators I have of the over-all effectiveness of TRTP are the positive results achieved for my clients. TRTP, which is delivered with love, has liberated so many from their past traumas and upsets, and any other dreadfulness that has occurred in their lives.  Most clients achieve rapid change and resolution of extremely distressing symptoms in a relatively short space of time. It is a privilege to witness the remarkable transformation of my clients and to share with them the knowledge that they have a future to look forward to that is meaningful and satisfying.
In my Nedlands based practice I work with women, men, adolescents or couples. As well as offering TRTP I also provide longer-term therapy and counselling together with supervision for students and practising professionals in psychotherapy, counselling, psychology, and other related health and educational practices. In conjunction with other highly effective psychological methods TRTP now forms a key component of my therapeutic practice.
Professional organisations I am a clinical member of The Psychotherapy and Counselling Federation of Australia (PACFA).  Accredited supervisor – Clinical Reg. 20892.
Areas of Interest  I work with trauma (accidents, domestic violence, rape, robbery, illness, neglect, natural events), loss and grief, anxiety, depression, panic attacks, personal and work related stress, heartache, relationship counselling, negative thought patterns, illness (especially cancer), and an inability to relax, intolerable sensations in head and body, isolation and aloneness, and addictions.  In addition, I work with fibromyalgia, migraine, irritable bowel syndrome and chronic fatigue.
---