Marijke Miller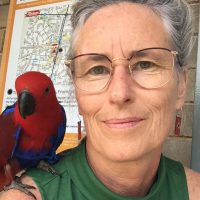 Company
BodyMindShock
Professional Title
Clinical Hypnotherapist and TRTP Practitioner
Qualifications
TRTP Practitioner
Adv Dip Clinical Hypnotherapy
ConTact CARE (NZ) Flinchlock Release Therapist
NLP Practitioner
Eriksonian Hypnotherapist
Transformational Communication Practitioner
Timeline Therapist
Laughter Yoga Facilitator
BA Applied Media (Journalism)
St Johns Ambulance Pre Hospital Care (First Response ambulance officer)
Specialities
Abuse, Addiction, Anxiety, Depression, PTSD, LGBT, Physical Pain, Chronic Illness/Organ transplantation
Email Address
marijke@bodymindshock.com.au
Level
Practitioner
Address
Unit 3, 8 Swan Crescent
Winellie, NT 0820
AU

Phone Number
+61432745779
+61 (0) 432745779
Biographical Info
Releasing That Which Keeps You Stuck
I first developed an interest in PTSD 20+ years ago as a First Responder in the days when debriefing consisted of dark humour over a stiff drink at the end of a tough callout or a phone call to chat about the temporary inability to sleep for days on end due to flashback images on repeat. A few years later, I completed a research paper on the effects of vicarious trauma on journalists which led to the surprising (for me) conclusion that trauma doesn't simply disappear just because it was in the past, or we don't acknowledge it anymore.
We normalise, strategise, and manage as best we can - sometimes with remarkable life achievements, sometimes the complete opposite. There is no One way the effects of trauma manifest in our lives, but there are many consistent markers for when it begins to spill over: anxiety, depression, sleep issues, and health problems are just the tip of the iceberg.
I was born in the NZ mountains and my journey to Darwin, Australia, has been long, winding, and rich in both lived experience and formal study. The first 28 years of life gave me a love of the outdoors, practical skills, and passion for learning. They also gave me addiction, domestic violence, single motherhood, and many messages about my place in the world - all conflicting, but deeply embedded. My stubbornness and ability to 'white-knuckle' gave me the next ten; I achieved what the external world deemed 'success' and then, as happens to all of us eventually when our sack becomes too full, my internal world began to leak and overflow, culminating some years later in loss of business, home, and deep shame at 'failure'.
Of course, this was only visible to those who knew me very well. To others, working in a rehab in Thailand, volunteering my 'recovery' voice in Philippine jails and rehabs, trekking on horseback in Mongolia, bouncing back from a kidney transplant, gaining a degree, owning property, rubbing shoulders with community leaders etc all looked like I was living my best life. I was, instead, simply Surviving.
Now, I Thrive.
And I bring everything I've learned along the way to my TRTP practice, so that You can Thrive too.
Available for in-clinic appointments in Darwin, Australia, and limited availability clinic sessions in Melbourne, Vic.
Online via Zoom sessions to suit your country and time zone

---