Felipe de Oliveira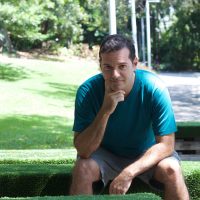 Company
Authentic Life Mindset
Professional Title
Life Coach & Counsellor
Qualifications
Masters in Counselling & Psychotherapy
Specialities
Mid-life Transition; Law Self-Esteem; Codependent Relationships
Email Address
counsellingmen@gmail.com
Level
Practitioner
Address
431 Montague Road
West End, QLD 4101
United States (US)

Phone Number
+61423506011
(042) 350-6011
Biographical Info
Nature lover, dancer, and men's work passionate. My passion is to see men and women together celebrating an Authentic Life™.
Felipe Oliveira has been doing men's work for more than a decade and is connected to the three greatest men's groups in Australia: Men's Wellbeing, Centre for Men, and ManKind Project.
In regards to how he works:
'I do it in a way so you can find, by your own words, your answers, and solutions to the challenges you are going through. My worldview is that every man and woman has what it takes to thrive in life inside of themselves. Meaning: whatever you are looking for by seeing me is within you. I will hold the space for you to find your power within'.
---