Dr Choon-Hwa Lim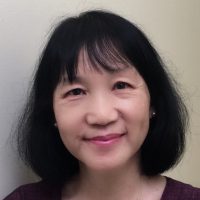 Company
Psychologist
Professional Title
Psychologist
Qualifications
PhD (Culture and Communication), Macquarie University

MA (Psychology), Canterbury University

B. Comm, Canterbury University

Member of Australian Association of Psychologists Inc.
Specialities
Young and older adults experiencing anxiety, chronic stress, depression, burnout, loneliness, grief and loss, career direction, relationship, work or family issues.
Email Address
contact@peopleinvest.com.au
Level
Practitioner
Phone Number
(041) 130-8996
(041) 130-8996
Website
http://www.peopleinvest.com.au
Biographical Info
I offer TELEHEALTH TRTP and PSYCHOLOGY services in mental health and career direction. I have 20 years of Australian psychology experiences and insights which are enriched by my lived experience and prior careers in corporate finance and Human Resources. I am passionate about investing in people's future and wellbeing, that's why I call my business PeopleInvest.
My clients are young and older adults including those who are in late-career stage, parents and tertiary students who are functioning but not thriving, often feeling not the best version of who they know they can be. I welcome clients whose spirituality is important to them and want to integrate their faith into the therapy process.
The approach I take is to walk alongside my clients to help you be free of your limiting feelings, thoughts and behaviour. I will walk alongside you to encourage, help and guide you to believe in your potential to find your way out of your situation or dilemma. I will teach you to become resourceful and share knowledge and strategies to equip you with skills to become confident in your own ability and worth again. My goal is to help you recover and be resourceful and sustainably resilient, and together we explore the possibilities of the present for a better and brighter future. The end goal is living well by Living Light.
---