Frances Bueno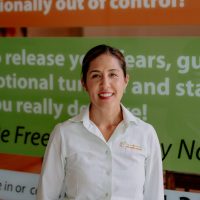 Company
Happy & Healthy Wellbeing Centre
Professional Title
Clinical Hypnotherapist, TRTP Practitioner,
Qualifications
Diploma of Clinical Hypnotherapy, Dip NLP,CBT, Aromatherapist
Specialities
Trauma, Sexual Abuse, Anxiety, Stress, PTSD, Confidence, Weight issues, Smoking
Email Address
bfreebhappynow@gmail.com
Level
Practitioner
Address
Suite 3, 522 - 524 Kingsway
Miranda, NSW 2228
AU

Phone Number
+61295242471
Biographical Info
Frances has been practicing as a Clinical hypnotherapist for 12 years based in the Sutherland Shire in Miranda, Sydney NSW, Australia.
Frances is a clinical hypnotherapist who has helped hundreds of people live healthier and happier lives and achieve their goals. Her patients love her passion, enthusiasm, and love-life attitude, and you will too.
Frances was able to overcome the trauma triggered by childhood sexual abuse using The Richards Trauma Process (TRTP) and knows it can help you too
TRTP is an integral part of Frances' therapies to help people recover from their past traumas of abuse (sexual, physical, emotional), bullying, victimisation, negative self-loathing, self-sabotage, and lack of self-belief.
Frances knows the biggest battle you face throughout life, is the one you face within yourself. She provides you with practical strategies for overcoming negative thoughts and self-sabotaging behaviours.
Frances uses her clinical hypnotherapy skills to help you get rid of your past traumas and teaches you to take control of emotions such as anxiety, depression, frustration, anger, resentment, and guilt once and for all.
This way you can live the life you truly deserve!
If you would like to book in for a Complimentary Assessment Consultation
There are two ways to contact Frances the first is for a face to face in the clinic if you're a local, or if your live interstate or even if you're overseas.
---