Ed Zahra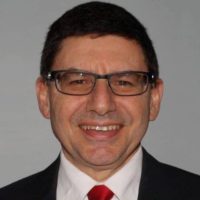 Company
Access Psychology
Professional Title
Clinical Psychologist
Qualifications
B.Com., Dip.App.Psych., Dip.Clin.Hyp., M.App.Psych., M.A.P.S.
Specialities
ed@accesspsychology.com.au
Email Address
ed@accesspsychology.com.au
Level
Practitioner
Address
43 Reordan Drive
Greenwith, SA 5125
AU

Phone Number
(042) 055-3009
(042) 055-3009
Biographical Info
Apart from completing double Masters-level (six-year) qualifications in Clinical Psychology and Educational Psychology, Ed Zahra has also gained a Diploma in Clinical Hypnotherapy and a Commerce degree majoring in Economics. For you, his more than 35 years of experience means that he has almost certainly dealt with your type of problem many times already. Also, with his further training in the areas of Clinical Neuropsychology (for screening-assessments), EMDR (Eye Movement Desensitisation & Reprocessing), TRTP (The Richards Trauma Process), CBT (Cognitive Behaviour Therapy), and Counselling Psychology, you can be confident that he is likely to have ready access to the best tools for your particular needs.
Ed is primarily interested, and skilled, in helping people change. If the problems relate to a straight-forward lack of the conscious skills to handle basic emotions, stress, assertiveness, worries, etc., then his preferred treatment approach is through CBT (Cognitive Behaviour Therapy). However, that is insufficient if (as is often the case) the problems stem from significant past events or circumstances (such as abuse, bullying, trauma, etc.). That history keeps 'tripping-up' the person with often baffling self-sabotaging behaviours, posttraumatic stress symptoms, persistent guilt or grief, feelings of low self-worth, and so on. For these issues (that involve more unconscious processes) you are fortunate to have access to Ed's skills in TRTP (The Richards Trauma Process).
Ed has succeeded in a broad range of high-level appointments. These include positions such as Officer-In-Charge of Recruitment Testing in an Army Reserve Psychology Unit, Clinical Psychologist for South Australia's Mental Health Services to the Elderly, Senior Clinical Psychologist in charge of establishing and administering S.A.'s first Community Mental Health Unit attached to a General Hospital, founder of N.A.S.G.A.P. (The Northern Areas and Spencer Gulf Association of Psychologists), Lecturer in Psychology for the University of S.A., Clinical Psychology Consultant to S.A.'s largest Employee Assistance Scheme, and Vice President of SA's Institute of Private Practising Psychologists.
He has also written that very useful and easy to understand book on the basic 'nuts and bolts' of child behaviour management called Child Behaviour Basics – less stress & more happiness for families with 2 to 9 year-olds (available via his web site http://www.accesspsychology.com.au) so, for those of you with parenting issues, Ed can show you how to establish your place as a parent and begin to enjoy your family life.
Finally, Ed has developed a different system for providing psychological services that offer what we consider to be a higher than usual level of service, resulting in a more personal and more valuable experience for you.
Areas of Interest Ed has been a clinical psychologist since 1985. He treats those with emotional self-control issues (via CBT – Cognitive Behaviour Therapy), &/or with patterns of self-sabotage and chronic distress (via TRTP – The Richards Trauma Process). Problems treated include Anxiety, Depression, Pain, Parenting, Sleep, Stress, Posttraumatic Stress, Chronic Stress, Adjustment, Mood Swings, Smoking, Fears, Phobias, Tension, Panic Attack, Headache, Aggression, Anger, Guilt, Grief, Frustration, Shyness, Abuse, unhelpful Unconscious Core Beliefs, and Self-Sabotage.
---